Availability:
Custom Made 6 - 8 Weeks
Two Man Delivery Plus
Comfort lives in each and every layer of our highest quality mattresses, handmade exclusively for Cox & Cox in the UK using only the very best materials and expert knowledge available.
Meticulously and precisely constructed of layers, our Sublime Mattress is made up of a luxurious deep layer of cashmere and cotton blended with soft white fibres, covered with a 100% cotton fabric layer for the exceptional temperature regulating properties of natural fibres.
The generous layers of the Sublime's soft fillings are hand-tufted to 2,200 individual pocket springs for a precise and luxurious level of support, comforting to the shape of your body for the ultimate, nurtured night of sleep.
Since production is handmade, and handside-stitched the traditional way additional premium features include side vents allowing the mattress to breath, and side stitched handles to turn your mattress for longevity.
Finished by three rows of hand side stitching at each border- the mark of quality and durability - all the luxurious features of our Sublime mattress are expertly encased within a fluted cover, choose from a medium or firm tension to enjoy the most beautifully presented good night's sleep.
Also available with a single pocket sprung layer and a wool and silk fill with our Dreamy mattress.
Build your perfect bed by pairing with our Scandi Headboard or Buttoned Headboard and a Storage Bed Base.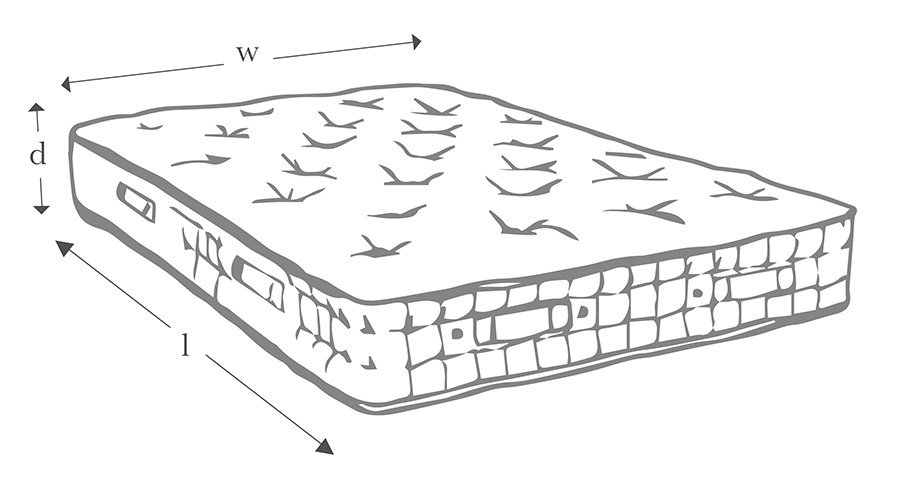 Double:
Total: W 135 x L 190 x D 30cm
King:
Total: W 150 x L 200 x D 30cm
100% cotton fabric fluted cover
Deep cashmere and silk layer blended with soft white fibre
2,200 individual pocket springs over two layers
Hand side-stitched with side vents and handles for turning
Hand-tufted with three rows of hand side-stitching at each border
Handmade in the UK, exclusively for Cox & Cox
To make the most of your mattress please turn and rotate regularly
All handcrafted mattresses can vary in size from one another, a slight variation of +/- 2cm is normal and not a fault
During storage and transit the springs can nestle into each other, temporarily reducing the width and length. The mattress should regain its natural dimensions with use over the first 6-12 weeks
This item is custom made especially for you and will be delivered within 8 to 10 weeks by our 2 MAN service. 


Delivery costs £60 per item and is available to the UK mainland only.

Our delivery team will contact you as soon as they have collected the product from us to inform you of the delivery slot available.

Our delivery team will carefully position the item in a room of your choice and upon request will dispose of all packaging. Please make sure the item will fit into the room and also make sure doorways and hallways on the way are clear and wide enough for it to pass. 

Please inform our 2 MAN service of any access issues both outside and inside your home that may hinder delivery, for example, small narrow roads, small doorways and corridors.

For more information visit our full delivery information page or call us on 0330 333 2123 or email [email protected]
 
Returns and Refunds

If you are not 100% satisfied with your new mattress as it's not as comfortable for you as you were hoping for, you can return it for a refund after 30 nights of use have elapsed. 30 nights of sleep using your new mattress is strongly recommended as it can take this long for your body to adjust to your new mattress and for the fillings to soften/ settle down.

If you have any query, please contact our Customer Service team by phone on 0330 333 2123 or by email [email protected]